At least 18 people have been killed after train derails in Taiwan: Railway administration
Comments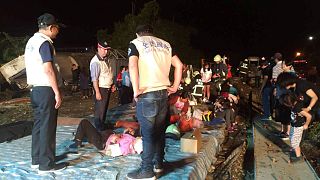 At least 18 people have been killed and 160 have been injured after a train derailed in Taiwan, said the country's railway administration citing the fire department.
The accident took place in Yilan County. in northeastern Taiwan, when several train carriages overturned on a coastal railway.
The train, carrying more than 300 passengers, was headed towards Taitung, a city on the country's southeast coast.
An investigation into the cause of the accident is still underway.