Wimbledon introduces new rule to shorten final deciding set
Comments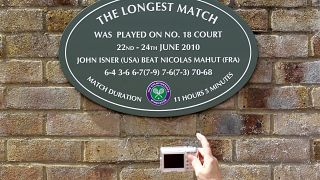 Copyright

REUTERS/Suzanne Plunkett

-
Britain's Wimbledon tennis championships announced on Friday that it will introduce a final-set tie-break to prevent matches from going past a "reasonable point."
The All England Lawn Tennis Club said the decision was reached after consultation with players and officials and a thorough review of match data from the past 20 championships.
It also comes after South African player Kevin Anderson called for a rethink earlier this year after his semi-final clash with the American John Isner lasted over six and a half hours.
Both men struggled to get an edge over each other with the final fifth set lasting almost three hours. Anderson eventually won it 26-24 but put up little resistance against Novak Djokovic in the final, later complaining that his body had not recovered from his previous, gruelling, encounter.
"Our view was that the time had come to introduce a tie-break method for matches that had not reached their natural conclusion at a reasonable point during the deciding set," Philip Brook, chairman of the AELTC, said in a statement.
Under the new rule, which is to apply to all Wimbledon events including qualifying, men's, women's, mixed and junior, singles and doubles, a tie-break will be played when the score reaches 12-12 in the fifth and final set. The winner will be the first player to win seven points with an advantage of two or more points.
"We feel that a tie break at 12-12 strikes an equitable balance between allowing players ample opportunity to complete the match to advantage, while also providing certainty that the match will reach a conclusion in an acceptable timeframe," Brook added.
The English tournament holds the record for the longest match ever played. Back in 2010, John Isner beat France's Nicolas Mahut in 11 hours and 5 minutes with the final set lasting over eight hours and reaching a score of 70-68.
The American player reacted to Friday's announcement with a humorous gif on Twitter, suggesting he would not have minded the rule being introduced earlier.