Sexism in tennis: Debate flares up after Williams lambasts umpire
Comments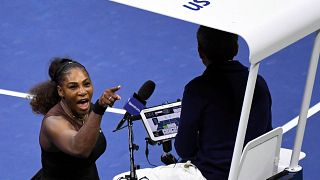 Tennis players, commentators and officials are debating whether their sport is sexist after Serena Williams claimed the chair umpire at the US Open final treated her differently because she was a woman.
Williams was handed three code violations by umpire Carlos Ramos during her Grand Slam final against Japan's Naomi Osaka: one for coaching after Ramos ruled that her coach, Patrick Mouratoglou, gave her hand signals from the stands; another for smashing her racket; and a last one for verbal abuse after she confronted the umpire.
She went on to lose the match and will have $17,000 (€14,700) deducted from her prize money for the violations.
'Double standard'
The Women's Tennis Association (WTA) backed Williams' claims of sexism by Ramos during Saturday's clash in Flushing Meadows, New York.
"The WTA believes that there should be no difference in the standards of tolerance provided to the emotions expressed by men vs. women and is committed to working with the sport to ensure that all players are treated the same," Steve Simon, the body's CEO, said in a statement released on Sunday.
"We do not believe that this was done last night," he added.
Billie Jean King, a former tennis world No. 1 and gender equality advocate, praised Williams for calling out the "double standard" in the sport.
"When a woman is emotional, she's "hysterical" and she's penalized for it. When a man does the same, he's "outspoken" & there are no repercussions," King said on Twitter.
Victoria Azarenka, a Belarusian professional tennis player and former world No. 1 who competed Williams 21 times, said that "if it was men's match, this wouldn't happen like this.
"It just wouldn't," she added, describing the situation as "bs."
Many former male players also rallied around Williams.
Sports journalists and commentators weighed in the debate online, unearthing past situations where male players were penalised far less if at all for similar violations.
Osaka overshadowed?
Some however criticised Williams for her reaction.
Most commentators also deplored the fact that the controversy had the unintended consequence of overshadowing what should have been a great moment of celebration and elation for Osaka, who had just won her first Grand Slam title.