Islamic preacher jailed in U.K. for ISIS support released
Comments
By Rachel Elbaum and Associated Press with NBC News World News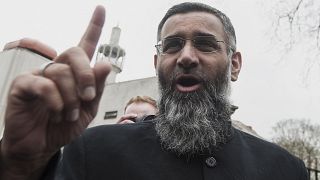 -
LONDON — A notorious radical Islamist who preached hatred of the West in Britain was released from prison on Friday.
Anjem Choudary was convicted in August 2016 of encouraging support for ISIS and sentenced to five and a half years in prison the following month.
According to U.K. law, anyone serving a fixed sentence in prison must be released at the halfway point. They are then subject to a series of stringent conditions limiting their daily activities. To avoid serving the rest of his sentence in prison, Choudary will need to demonstrate good behavior, reside in an agreed address and not leave the country.
Choudary, from east London, is expected to wear an electronic tag, face a nighttime curfew and be barred from contacting anyone who has been charged with extremist-related offences unless he receives prior approval from authorities.
In addition, Choudary's name has been added to a U.N. sanctions list, which means the government can freeze his assets and bar him from traveling.
"He is out but not free," NBC News security analyst Duncan Gardham said, adding that he will likely be under tight surveillance by police. If he breaks the terms of his release he will be sent back to prison for the remainder of his sentence.
News
Choudary has for years been one of the best-known faces of radical Islam in Britain, leading various extremist groups under names including al-Muhajiroun, Islam4UK and Muslims Against Crusades.
Prior to his conviction, the London-born preacher's headline-grabbing activities often provoked outrage but stayed within the bounds of the law. They included protesting outside the U.S. Embassy on the anniversary of the Sept. 11, 2001, attacks and burning memorial poppies on the annual Remembrance Day honoring slain service members.
Several people who attended Choudary's rallies and events have been convicted of violent attacks, including the pair of al Qaeda-inspired killers who ran over British soldier Lee Rigby and stabbed him to death in 2013.
But the London-born preacher ran into trouble in 2014 after his name appeared on an oath circulating online that declared the legitimacy of the "proclaimed Islamic Caliphate State." Choudary denied encouraging his followers to support the Islamic State group and said the oath was made without his knowledge.