Food for followers: Milan restaurant gives away meals to popular Instagram users
Comments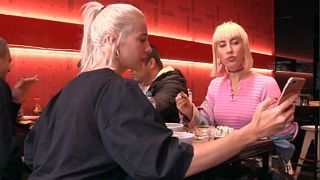 A sushi restaurant in Milan is giving away free food to customers with a large following on Instagram, using the number of followers a person has to determine how much they should pay.
The 'This Is Not a Sushi Bar' restaurant divides Instagram accounts into five different categories, with more free plates offered for the more followers a customer has.
Those with more than 1,000 followers are offered one free dish, while customers with over 100,000 followers can eat for free.
"A large part of our clients are from the millennial generation, many are girls, and we don't tend to reach these people, they are all on Instagram", said the restaurant's founder, Matteo Pittarello.
"The idea to have somebody pay for dinner while giving us visibility seemed like a nice engagement idea, a word of mouth promotion that could make our brand strong and viral."
To receive the offer, customers have to post a picture at the restaurant, along with the restaurant's Instagram account name and hashtag.
They are then required to show the cashier their account before receiving the bill.
After opening last week, staff said the concept had already proved popular, with curious customers keen to check how the payment system works and what their bill would be.
"I have 200,000 followers because I have been working with fashion brands for a few years and I got the whole meal for free, so we tasted everything from gunkan (sushi) to tartare and I have to say it is really good," said radio host radio Clizia Incorvaia.
Others with fewer followers also hoped to benefit from the deal.
"We hope to get one free dish, perhaps a uramaki, we'll see," said Giulia Terranova, who has around 1,600 followers.
The restaurant says it will continue the concept for the foreseeable future, and hopes to extend it to other locations if it works well.