Woman strikes Lindsay Lohan live on Instagram during 'attempted kidnapping'
Comments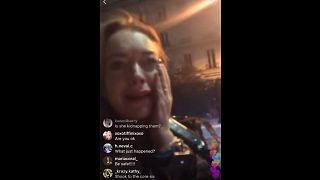 Copyright

Instagram/lindsaylohan
Lindsay Lohan is facing criticism after live streaming herself being knocked to the ground by a homeless woman. The actress was hit while trying to persuade the woman and her children to go with her to a hotel.
Speaking to her Instagram followers at the start of the video, posted on late Friday night or early Saturday morning, the troubled Mean Girls actress said she wanted to introduce her followers to a Syrian refugee family she had met who "really need help".
"You shouldn't be sleeping on the floor, do you understand that? You're a good little boy and this is not fair," she said while crouching beside a woman, man, and three boys, who were sitting on a street under a blanket. It was not clear if they understood what she was saying.
Lohan, 32, then convinced them that she could put them up in a hotel for the night and beckoned them toward her car.
But when the woman refused to let the boys in the vehicle, she started walking away with the children.
"Look what's happening, they're trafficking children. You're ruining Arabic culture by doing this," Lohan said as she followed closely behind them.
"You're taking these children, they want to go. I'm with you boys, don't worry, the whole world is seeing this right now.
"I will walk forever, I will stay with you, don't worry. Is he your son? Give me your hand."
Lohan was eventually struck off camera by the woman and fell to the ground before bursting into tears.
The bizarre video has been condemned online, with many accusing the star of trying to kidnap the children.
The video has since been deleted from her Instagram page.
This story was updated to remove its location.