Watch: Small pony rescued after getting stuck in drain
Comments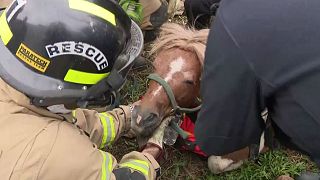 This is the moment emergency crews rescued a small pony who had somehow got stuck in a water drain.
Firefighters sedated the animal before cutting through concrete around the drainage system in Houston, Texas.
The pony was discovered when a police officer was checking to see if a truck had been stolen when he heard noises coming from underground.
A short time after the animal had been hoisted out of the hole it was able to stand on all four legs and walk around.
Officials say that they are at a loss to explain how the pony came to be stuck there or who it belongs to.