UK may consider a longer Brexit transition period
Comments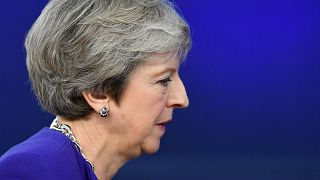 -
The UK Prime Minister has hinted at a longer Brexit transition period, while EU leaders have said there are no plans for a November summit to finalise the divorce bill.
Prime Minister Theresa May has hinted that the UK could extend the Brexit transition period, which would allow more time to break the deadlock over remaining key issues, according to EU officials.
EU officials at a Brexit summit on Wednesday said that the prime minister had suggested she was "ready to consider" a longer transition period.
However, despite demands by the European Council President Donald Tusk for "new facts" to unlock Brexit negotiations, she did not offer any new proposals or break the impasse over the issue of the Irish border.
After a dinner with the remaining 27 EU leaders, which did not include May, officials said the leaders are ready to meet to finalise the terms of Brexit as soon as negotiators get close enough. But said there are no plans for a summit in November as not enough progress has been made yet.
Wednesday's European Council meeting was meant to be the occasion when the remaining 27 EU member states gave the go-ahead for a special summit in November, which would finalise the terms of Britain's departure from the EU.
"The 27 leaders note that, despite intensive negotiations, not enough progress has been achieved," one EU official present at the talks said.
"(The leaders) stand ready to convene a European Council, if and when the Union negotiator reports that decisive progress has been made. For now, the 27 are not planning to organise an extraordinary summit on Brexit in November," the official said.
The EU leaders also expressed their confidence in the EU's chief Brexit negotiator Michel Barnier, and their determination to stay united.
The UK Prime Minister Theresa May did not attend the dinner, but a government official quoted her telling the other EU leaders: "We have shown we can do difficult deals together constructively. I remain confident of a good outcome".
Adding, "the last stage will need courage, trust and leadership on both sides."
Both the EU and Britain are hoping to get an agreement in the next few weeks to avoid the UK exiting the bloc without a deal on 29 March.