Trump says Saudi crown prince denies knowledge of what happened to Khashoggi
Comments
By
Alice Cuddy
&
Cristina Abellan-Matamoros
with
AP, Reuters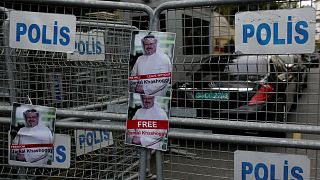 Copyright

REUTERS/Murad Sezer
In a Twitter thread on Tuesday night, US President Donald Trump said that Saudi Arabia's crown prince "totally denied any knowledge" of what happened in the Saudi consulate in Turkey.
Trump added the crown prince told him he had started a "full and complete investigation into the matter" and that "answers would be coming shortly".
A high-level Turkish official told The Associated Press that police have found "certain evidence" in the Saudi Consulate showing that missing Saudi journalist Jamal Khashoggi was killed there.
The official, who spoke to the agency on condition of anonymity, did not provide details on the evidence that was recovered during the search at the consulate that ended early Tuesday.
Khashoggi, a contributor to the Washington Post, was last seen entering the Saudi consulate in Istanbul on October 2.
Before disappearing, the prominent Saudi writer had been living in self-imposed exile in Washington, fearing retribution for his critical views on the kingdom's policies.
Turkish officials believe the dissident was killed in a "premeditated murder", before his body was moved out of the consulate.
US Secretary of State Mike Pompeo has been meeting Saudi leaders, including the king and crown prince, in Riyadh to discuss the incident, and is expected in Turkey later.
During the meeting, Pompeo and Prince Mohammed "agreed on the importance of a thorough, transparent, and timely investigation", US State Department spokeswoman Heather Nauert said.
"The Secretary reiterated the President's concern with respect to Jamal Khashoggi's disappearance, as well as the President's desire to determine what happened," she added.
US President Donald Trump has speculated that "rogue killers" may be responsible for Khashoggi's disappearance.