Nearly 50 people found hidden amongst porcelain in truck at Romanian border
Comments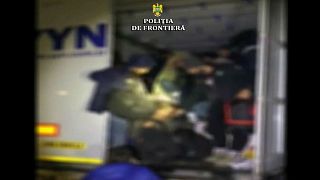 Romanian border police said they found 47 people hidden in the back of a lorry at the country's border with Hungary on Monday.
The Border Police General Inspectorate said there were 25 men, 12 women and 10 children among the group, and were Iraqi, Iranian and Turkish citizens.
They were discovered at a crossing in western Romania, hidden by boxes of porcelain in the lorry.
The vehicle's driver, who authorities are now investigating along with a companion on suspicion of human trafficking, was Turkish, police said.
The group was trying to reach a country in Western Europe, according to the inspectorate.