Greece: 11 people die in head-on collision
Comments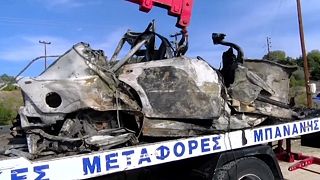 An investigation is underway after eleven people were killed when a vehicle and truck collided head-on and burst into flames, in Greece.
It's thought 10 were migrants travelling in a mini-van close to the city of Kavala in the north-east of the country.
The accident happened in the early hours of Saturday morning.
Police say, the truck driver managed to escape but people in the other vehicle were trapped and burnt in the fire.