Turkey: US Pastor charged with terrorism offences heads home
Comments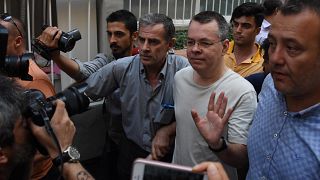 The American evangelical Christian pastor Andrew Brunson is on a plane home to the United States after a Turkish court ruled he should be released.
That's according to the lawyer representing his family.
The court passed a 3 years sentence on Brunson, who had been charged with terrorism offences. But because he'd been detained since October 2016, he wouldn't serve any further time.
The pastor's lawyer, Ismail Cem Halavurt says, "We are saying it from the beginning of the case. My client has suffered; he is the victim in this incident. turkey is another victim of the case. There was no reason that the relations between two states (US and Turkey) were so tense. The decision also shows the situation. And we don't accept that this is a decision actually. We are going to appeal and we are going to use all of our rights. We wished that he could be judged as a free man, outside of the jail."
President Donald Trump tweeted, "My thoughts and prayers are with Pastor Brunson, and we hope to have him safely back home soon!"
Brunson denied the accusation and Washington had demanded his immediate release.
The Pastor has been at the centre of a bitter diplomatic row between Ankara and Washington.
The move could be the first step towards mending ties between the NATO allies.