Bulgaria: Hundreds attend Victoria Marinova's funeral
Comments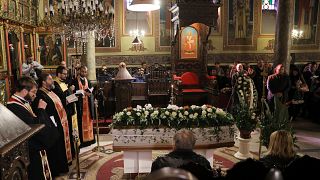 Hundreds of Bulgarians queued silently at a church in Ruse on Friday to pay their last respects to Viktoria Marinova, the television journalist.
Her brutal rape and murder shocked the country and triggered debates over freedom of the press.
The body of the 30-year-old, was found in a park near the Danube port of Ruse, her hometown, on Saturday. Police say she'd been raped, beaten and strangled.
People who knew her talked about her determination, responsibility and kindness, her charitable work and commitment to social causes such as support for disabled and disadvantage children.
This lady says some people are now frightened. "Such tragedies can happen anywhere. The problem is that people start to live in fear, when some person with such twisted mind roams around freely".
A 20-year-old Bulgarian man, Severin Krasimirov, was arrested in Germany over the killing, and German authorities say he'll be extradited to stand trial in Bulgaria soon.
Viktoria Marinova leaves behind a 7-year-old daughter
Euronews reporter, RÓBERT CSÁKÁNY, says, "It all began somewhere here. Last Saturday, just a week ago Viktoria Marinova jogged here on Danube's riverbank. The perpetrator attacked her, raped her and killed her. Later on, he fled to Romania through that bridge right there. He got caught in Germany, is waiting for his extradition to Bulgaria, where he faces a trial."