Raw Politics: Poland perseveres with judicial reform despite anger at home and in Brussels
Comments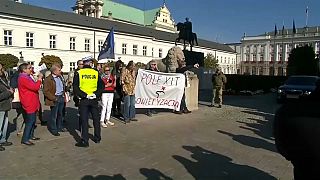 Poland is once again flexing its political muscles despite EU objections. President Andrzej Duda has appointed 27 new judges to its Supreme Court. That's in addition to 10 who were already nominated last month.
A car carrying the latest appointee was met with chants of "traitor" as it left the Presidential Palace yesterday.
It's the latest in a series of demonstrations as people push back against recent judicial reforms.
The changes forced a third of the country's judges into early retirement and gave the ruling party more control over the legal system.
The move angered the EU which accuses the government of breaching the rule of law.