Dozens die in DRC after collecting leaking fuel from burning tanker
Comments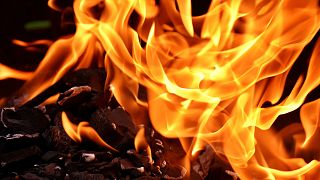 At least 50 people have died and over 100 have received second-degree burns after an oil tanker caught fire in the Democratic Republic of the Congo Saturday.
Officials and witnesses say the vehicle collided with a bus in Mbuba village, 200km southwest of the capital Kinshasa, when it went ablaze and lit up locals who rushed to the wreckage to collect leaking fuel.
"We deplore the deaths," interim governor of Kongo-Central province, Atu Matubuana, told The Associated Press. He added that officials were preparing to identify the charred bodies and bury them.
Images posted on social media by a local journalist show around a dozen people piled into the back of a pickup truck and motorbike with raw, bleeding burns. Another shows blackened bodies lying on the ground as a fire rages in the background.
Health officials have been told to "do everything necessary" to treat victims, the interim governor said, and nine ambulances had been dispatched to assist the wounded.