Europe must play post-war role in Syria to allow refugees to return, says German Defence Minister
Comments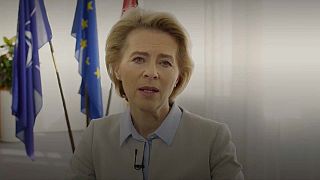 Germany's Defence Minister Ursula von der Leyen has told Euronews that Europe must play its part in a post-civil war Syria if it is to alleviate pressure on migration.
Von der Leyen applauds the combined military efforts of countries to overcome ISIS in Iraq but accepts that Europe's absence from war-torn Syria helped create a situation where refugees fleeing the conflict headed to Europe. She does, however, believe that Europe needs to take part in a political solution in Syria that will enable many refugees to return.
Speaking to Daniel Cohn-Bendit as part of Euronews' Uncut series of interviews, she said:
"In Iraq, we did a lot of things right. Today ISIS is militarily beaten in Iraq but the world community must still help to stabilise the situation there for some years hence. In Syria, we felt very clearly that the vacuum the Americans had left behind was filled by Russia and Europe was not there at all.
"This is also a bitter lesson for Europe: the problems which appeared there, the civil war that has raged, if we don't deal with this on the spot it lands directly at our front doors. In this respect in Syria, if you look ahead, it did not work to convince Russia to fight ISIS together. But for the future of Syria, I also see that Russia is aware of the fact, together with Assad, that it will take us, Americans, Europeans, to rebuild this country.
"That means there is also the chance to say: only if a political solution in Syria is reached, which also gives the people who fled - meaning the opponents of Assad - the right to return to Syria and a place to live."
Need for NATO remains but European Defence Union will help
In terms of European defence strategy, von der Leyen insists that NATO remains the indispensable pillar of security. But pushed on whether Europe needs its own united army, she says steps have been taken in recent years to develop, if not an army per se, at least a common European defence mechanism.
"I am firmly convinced that we are always going to need NATO for collective defense. Article 5, this will always be NATO. That is why it is important, in my opinion, to remain transatlantic," she says.
"Because NATO has been there for decades, we haven't build the security structure for a European Defense Union worthy of the name. In the last one and a half years we have tackled this and we have taken a big step forward. The structures that have been "sleeping" for a long time inside the Treaty of Lisbon, now we have activated them. That means we now have a legal framework for a European Defence Union, we have a joint planning process, so that as Europeans we can also develop a structure that tells us when we are going to use our forces."
Von der Leyen is the only ever-present minister in the cabinet of Chancellor Angela Merkel. She served as Minister for Family, Senior Citizens, Women and Youth and then Minister of Labour and Social Affairs until 2013, when she took her post at the head of the Defence Ministry.
Uncut with Ursula von der Leyen will be available in its entirety on Euronews and euronews.com from 22:25CET on Friday October 10.