Meerkat pups greet adoring crowds in Sydney zoo
Comments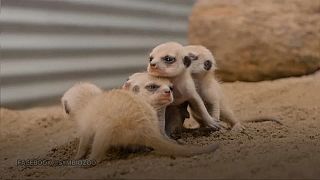 Symbio Wildlife Park near Sydney, Australia has recently welcomed five baby meerkats.
The tiny babies that fit in palms of a zookeeper were born just over five weeks ago to parents Aya and Penfold.
The video uploaded to social media on Tuesday (October 2) shows five meerkat pups venturing out onto exhibit in the company of their parents. 
The meerkat pups (yes, pups and not kittens) are still to be named.