Ancient Roman site Sabratha classed "endangered" by UNESCO
Comments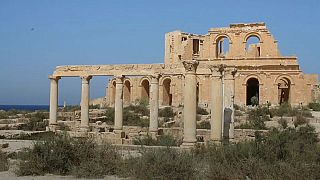 An ancient Roman jewel on the coast of what is now Libya is under threat.
The ruins of Sabratha have been classed as "endangered" by UN culture agency UNESCO.
For several years the site has suffered looting and fighting between rival militia and gangs of smugglers. Shell casings and bullets still litter the surrounding earth, a year after clashes between rival armed groups.
Locals say snipers positioned themselves at the top of the amphitheatre, once a jewel of the Roman Empire.