Trump mocks Kavanaugh accuser Christine Blasey Ford at campaign rally
Comments
By Jonathan Allen with NBC News Politics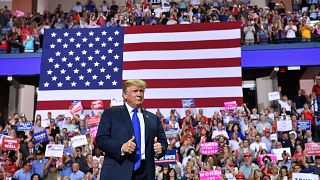 Copyright

Mandel Ngan AFP - Getty Images

-
SOUTHAVEN, Miss. — President Donald Trump on Tuesday mocked Christine Blasey Ford, who accused Supreme Court nominee Brett Kavanaugh of sexually assaulting her when they were teenagers, despite having said previously that he found her Senate Judiciary Committee testimony last week "credible."
In a one-man re-enactment of her testimony, with his voice alternating between inquisitor and an impression of Ford, Trump challenged the veracity of the testimony that has paused Kavanaugh's Senate confirmation process.
The ridicule of Ford, delivered at the Landers Arena here in deeply conservative DeSoto County, is in stark contrast to the respectful way in which Trump and his aides had previously treated Ford's testimony, even as they have stood by Kavanaugh and his assertion that he never assaulted her or anyone else.
"I had one beer!" Trump said, characterizing Ford's testimony about her level of intoxication when she says she was attacked at a small get-together in Montgomery County, Md., in the early 1980s.
"How did you get home?" he said, taking on the role of prosecutor.
"I don't remember," he said in his Ford voice, which was deeper.
"How did you get there?" he said, reverting to interrogator.
"I don't remember," he replied to himself in the Ford voice.
Trump then asked and answered a series of questions with the responses "I don't remember" and "I don't know."
"A man's life is shattered," he said of Kavanaugh after making fun of Ford's testimony. "These are really evil people."
The Senate has delayed a final vote on Kavanaugh's confirmation while the FBI looks into multiple allegations of sexual misconduct — all of which he denies — that have been lodged against him.
The president's tone on Ford's testimony stood in sharp contrast to his assessment last week. "I thought her testimony was very compelling, and she looks like a very fine woman to me, very fine woman," Trump said of Ford while speaking to reporters on Friday.