Raw Politics: a bad day at the office for Macron as another close ally walks away
Comments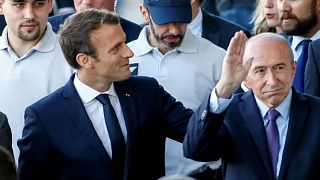 As Emmanuel Macron scrambles to claw back popularity in opinion polls, he's suffered a major setback: another key ally from his En Marche movement is walking away.
Gérard Collomb was Emmanuel Macron's strongest supporter, his right-hand man, mentor and loyal confidant.
Collomb compared their relationship to that of father and son and wept at the President's inauguration.
"We love each other", Collomb once said.
But the dream team wasn't to last. With the honeymoon period over, the relationship began to sour. It started with minor cabinet disagreements. A series of summer scandals and a scathing interview followed in which Collomb said the President lacked humility.
Collomb finally announced he was leaving the government to run for Mayor of Lyon. It was a decision Macron struggled to come to terms with but one he was forced to accept.