Watch: Schoolchildren dress as Gandhi amid birthday celebrations
Comments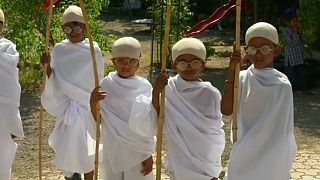 Schoolchildren dressed as Mahatma Gandhi throughout India to begin a two-year celebration to mark the Indian activist's 150th birthday. He was born on October 2 1869, and today is his 149th birthday, but the celebrations for the larger milestone begin in earnest today.
The video above shows around 150 children in Rajkot, a city in the Gujarat region, donning robes and goggles to mark the occasion.
In the southern city of Chennai, schoolchildren took part in yoga, while others shaved their heads and covered themselves in white paint.
Gandhi is often thought of as modern India's founding father, having championed Indian independence from British rule through a peaceful civil disobedience campaign. In 1948, just three months after steering the nation to independence, the activist was assassinated.