Raw Politics: Finnish PM Alexander Stubb makes his case for Commission presidency
Comments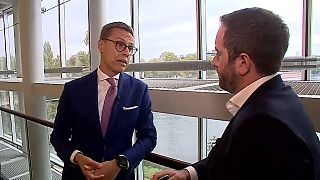 Another candidate has thrown his hat in the ring to replace European Commission President Jean-Claude Juncker after the next European elections.
Former Finnish Prime Minister Alexander Stubb put his name forward for EPP spitzenkandidat today and Raw Politics' political editor Darren McCaffrey spent some time with him.
Stubb talked of the need to defend European values, not just from outside threats from Russia and China, but also from dangers lurking within Europe and within his own EPP political grouping. He said Europe needs to improve its record on immigration, the transition to a digital economy and labour issues.
Check out Stubb's answers to Darren's questions in the video above.