Raw Politics: EU leaders snap back at Hunt, Stubb set to stand and is diversity dead in EU politics?
Comments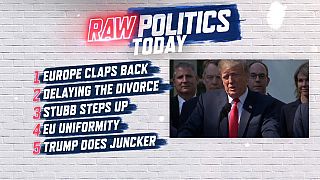 On the Raw Politics menu this Tuesday, October 2:
Europe claps back - Politicians turn on the UK in an emotional display over Brexit.
Delaying the divorce - Boris Johnson woos Conservatives and promised to push back the Brexit deadline.
Stubb steps up - The former Finnish PM makes a play for President, vowing to unite Europe.
EU uniformity - Mostly male, almost all white...does Brussels have a problem with diversity?
And in the Raw Moment, Donald Trump's does his best Jean Claude Juncker.