Switzerland launches electronic organ-donation register
Comments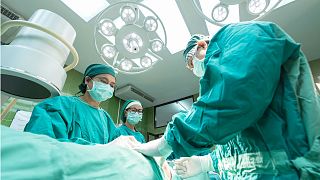 Switzerland's new online organ-donation database launched Monday with 1,200 people registering in the first two hours of it going live.
By early afternoon, this figure had risen to 2,700 and was growing every minute, Dr Immer, President of the Swiss National Foundation for Organ Donation and Transplantation, told Euronews.
The new system aims to facilitate organ donation and make it easier for families faced with the difficult decision of what to do with a loved one's organs.
"The foundation's priority was to increase safety and security, to make it easier for families to access their relatives' wishes," said Immer.
"In 60% of current cases a decision is not known for the deceased, which leaves the decision to the family and this can be extremely stressful," he added.
Currently, 15% of Swiss people have a donor card, but in only 5% of cases is the card found at the crucial moment for possible donors, according to Immer.
His small team based the model heavily on the UK's, which he describes as an "amazing, high-performing model".
Who can register?
All Swiss citizens aged over 16 can register and, contrary to popular opinion, there is no upper age limit.
"We frequently hear 'I'm too old to be a donor'," said Immer, "in fact, more than 40% of our donors are aged over 60."
People from Lichtenstein and frontier workers (people living outside Switzerland, but travelling over the border to work in the country) can also register.
Expats with a Swiss address can also sign up on the database as they are "medically based" in Switzerland and other countries can request information concerning their own citizens if they think it is on the new database.
How can I register?
The domain where those eligible can enter their data is available in German, French, Italian and English, and it can be accessed via www.swisstransplant.org.
Here they can also find more information in all four languages about what they are consenting to.
It is also possible to leave a message and add a picture for the family, which they will receive along with organ donation wishes.
Will an 'opt-out' system be introduced in Switzerland?
Immer believes that the Junior Chamber International Riviera, an NGO for people between 18 and 40 years old, will succeed in its mission to introduce an "opt-out" policy in Switzerland.
An "opt-out" system implies anyone who has not refused consent to donate their organs is a donor.
As well as personally supporting the model, Immer says the organisation has the support of the Swiss Medical Doctor's Association (SMR) and has around 95,000 signatures of people backing their cause.
"We think this initiative will be submitted at the beginning of next year," he said.