French singer Charles Aznavour dies at 94
Comments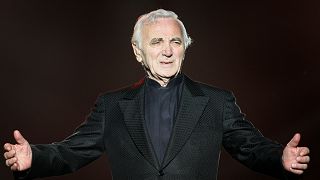 Copyright

REUTERS/Mathieu Belanger/File Photo
One of France's greatest singing voices has been extinguished. This unique tenor sold more than 100 million records in 80 countries.
Charles Aznavour was a composer, actor, writer, and singer renowned throughout the world for his repertoire of bittersweet love songs.
He was born Shahnour Varinag Aznavourian in Paris on May 22, 1924 into a family of artists of Armenian descent. His father was a former baritone and his mother a comic actress. His parents stayed in the French capital waiting for a visa to migrate to the United States.
He dropped out of school at the age of nine, aspiring to the life of an artist. He began to perform and took the stage name "Aznavour".
His big break came in 1946 when the legendary Edith Piaf heard him sing and took him with her on a tour of France and the United States. His career was set. and he went on to write around a thousand songs, and make more than a hundred records.
Humanitarian Work
He was a tireless and committed worker for Armenia founding a charity to help survivors of the earthquake there in 1988. Throughout his life he never forgot the orphans in what was his ancestors homeland.
In 1994 he helped provide food and medical aid to the refugees of the conflict in Nagorno-Karabakh.
In 2006 he attended a ceremony at the Armenian genocide memorial at Yerevan. He sang the Ave Maria for Pope John Paul II.
He was appointed an Ambassador and Permanent Delegate of Armenia to UNESCO in 1995. He became an Armenian citizen in 2008 and agreed to be the Armenian ambassador to Switzerland.
Legion d'honneur
The French president, Jacques Chirac, recognised his global renown as a French singer throughout the world by appointing him an officer of the Legion of Honour in 1997.