Woman wins global breakdancing competition for the first time
Comments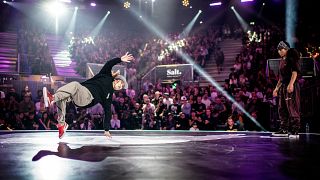 A woman has won a global breakdancing competition for the first time in its 15-year run.
Ami from Japan scooped first place from her French rival San Andrea in the tournament, in which 32 talented dancers around the world – 16 women and 16 men – compete to become Red Bull BC One B-Girl and B-Boy World Champions.
Moroccan dancer Lil Zoo, who lives in Austria, beat Luigi from the US in the male category.
Until this year, the competition, which was launched in 2004, only featured male contenders.
Saturday's final, held at the Hallenstadion in the Swiss city of Zurich, was broadcast live on YouTube and watched by tens of thousands online.
Catch some of the highlights in the video player above.