Typhoon Trami cripples Okinawa, threatens Japan's main islands
Comments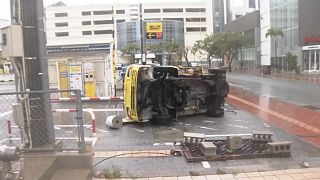 Typhoon Trami has crippled large areas of Okinawa, the southernmost prefecture of Japan, as torrential rains and high winds battered southern Japan Saturday.
This is the second major typhoon to threaten Japan in as many months, as the country is still recovering from Typhoon Jebi. Jebi was considered to be the strongest storm to hit the nation in 25 years and caused over $2 billion in damages.
Officials told the Japanese public broadcaster NHK, that more than 220,000 homes in the prefecture and about 60,000 homes in Kagoshima Prefecture are without power.
Outlying islands in the Okinawan chain were pounded by torrential downpours Saturday, causing damage to buildings and destroying vegetation throughout the region.
Trami has maximum gusts of 216 kilometres per hour and is forecasted to hit the mainland early Sunday and cause extreme weather across the country into Monday. Dozens of people in Okinawa have reportedly been injured by gusts of wind.
Widespread rainfall totals of 150 to 300 millimetres are expected throughout the region, while localized amounts could rise to over 500 millimetres in certain areas.
The typhoon is rated as a category 2 by Tropical Storm Risk, with category 5 being the highest, but is expected to strengthen over the next 24 to 48 hours.
Osaka's Kansai International Airport (KIX) preemptively closed its airport until Monday, which has led to hundreds of flight cancellations.
West Japan Railway says that from Sunday morning it will start suspending local train services in the Kyoto, Osaka and Kobe districts.
Shinkansen bullet train services between Hiroshima and Tokyo will gradually be suspended through the morning as the typhoon moves northeastward.
The storm is predicted to move across the islands of Kyushu and the main island of Honshu on Sunday, a path similar to that taken by Jebi earlier in September.