Owner bids for ice-skating dog to become hockey mascot
Comments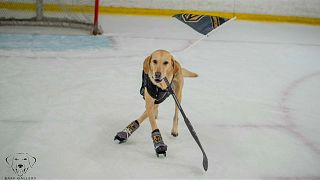 Benny was once living in a kill shelter, waiting to be put down.
But when Cheryl Del Sangro saw a picture of the puppy, she knew she had to take him home. The Las Vegas resident already had three dogs, so Benny would have friends to bond with.
Eventually, Cheryl found the Labrador retriever was a teachable animal, so being a retired semi-professional skater and ice-skating coach for over 20 years, why not take him on as her next student?
Using a pair of self-made skates for his front two paws, Cheryl introduced Benny to the ice, who she says has been improving rapidly.
So much so that she has set her sights on convincing her local National Hockey League Franchise, the Vegas Golden Knights, to take on the now six-year-old pooch as a mascot.
Watch Benny glide on the ice in the video player above.