Russian enthusiast showcases Soviet car collection
Comments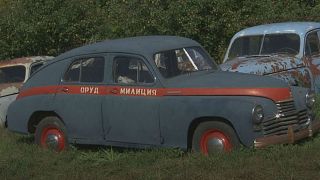 Mikhail Krasinets owns a rather special museum.
The former race-car mechanic has amassed hundreds of rust-bucket Soviet cars, symbols of a vibrant automobile industry that crashed with the fall of the Soviet Union.
His open-air collection draws in car lovers and nostalgia hunters during the warmer months.
Krasinets says "welcomes" and is "willing to talk to everyone".
He doesn't see the corroded metal shells as junk but invaluable relics of the past.