Trump orders FBI supplemental investigation on Judge Kavanaugh's file
Comments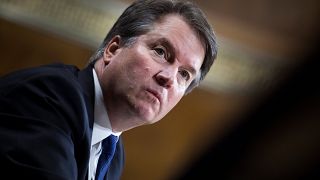 Copyright

Tom Williams/Pool via REUTERS
US President Donald Trump has ordered an FBI supplemental investigation to update Judge Kavanaugh's file.
"As the Senate has requested, this update must be limited in scope and completed in less than one week," he said via a statement on Twitter.
The Senate Judiciary Committee said earlier on Friday it would request that the administration instruct the FBI to conduct a supplemental background investigation with respect to the nomination of Judge Brett Kavanaugh to be an Associate Justice on the Supreme Court.
The supplemental FBI background investigation would be limited to current credible allegations against the nominee and must be completed no later than one week from Friday, the committee said in a statement.
Supreme Court nominee Brett Kavanaugh was approved by the Senate Judiciary Committee on Friday on an 11-10 party-line vote, with all Republicans supporting President Donald Trump's pick and all Democrats voting against him.
It came one day after a contentious hearing on a sexual assault allegation against Kavanaugh.
In a statement after the verdict Kavanaugh said: "Throughout this process, I've been interviewed by the FBI, I've done a number of 'background' calls directly with the Senate, and yesterday, I answered questions under oath about every topic the Senators and their counsel asked me.
"I've done everything they have requested and will continue to cooperate."
Dr Christine Blasey Ford, who read her testimony recounting the evening when she alleges Kavanaugh sexually assaulted her on Thursday, said in a statement via her attorney she "welcomes this step in the process" and that "no artificial limits as to time or scope should be imposed on this investigation."
The deciding vote fell to Senator Jeff Flake, who was previously the panel's only undecided Republican, who moments before announcing his decision asked for an FBI investigation to take place and to delay the floor vote for up to one week.
Flake's request was informal as his solicitation for the vote be delayed for a week is not something the committee could decide.
Kavanaugh's nomination still needs to be voted on by the full Senate — and that remained up in the air after the committee had acted.
The implication from Flake was that he will vote no if the investigation doesn't come to fruition.
"We ought to do what we can to make sure that we do all due diligence with a nomination this important," Flake said.
The meeting was brought to a close as Senator from Iowa Chuck Grassley abruptly adjourned the proceedings, citing a "two-hour rule". Confusion ensued as the gavel went down and Senator Dianne Feinstein said: "What?"
"This is all a gentlemen's and women's agreement," Grassley responded before the microphones in the room were switched off.
US President Donald Trump said: "I'm going to let the Senate handle that."
Trump said he on the meeting owing to the fact he was in a meeting with the president of Chile.
"I just want it to work out well for the country," Trump says.
On the subject of Christine Blasey Ford's testimony, he told reporters: "I thought her testimony was very compelling, and she looks like a very fine woman to me."
"Brett's testimony was, likewise, really something that I hadn't seen before," he added.