Immigration: Italy and Tunisia pledge more cooperation
Comments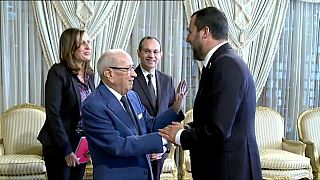 The Italian Interior Minister met his counterpart in Tunisia to discuss the issue of immigration and security.
During the discussions, the Tunisian Interior Minister, stressed that "more than 500 people accused of human smuggling have been arrested this year".
The Tunisian President says "the friendship and close collaboration between Italy and Tunisia are a great resource".
And Matteo Salvini says the visit shows a deep friendship between the two countries.
"We've agreed on a more effective fight against human trafficking. For departures; for the limit; and the number of deaths and repatriations. Having a limited and qualified controlled immigration will be an added value for our country and for those migrants from Tunisia as well as from other countries "
The Tunisian President says in a statement, "challenges that threaten the stability of Mediterranean countries and which hinder their development efforts. require a closer coordination and closer cooperation to overcome them".