Forest fire forces 700 people to evacuate near Pisa
Comments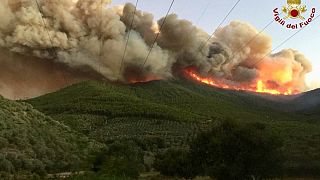 -
A huge forest fire has forced around 700 people to evacuate their homes in the Italian province of Pisa.
The fire broke out on Mount Serra around 10 p.m. on Monday evening and has destroyed over 600 hectares of woodland, according to Italian media.
The President of the Tuscany region, Enrico Rossi, has declared a state of emergency.
Firefighters have been battling the blaze since it broke out, but strong winds have made it difficult to extinguish.
Two water-dropping planes are assisting firefighters and volunteers in putting out the blaze.
The mayor of the nearby settlement of Calci, Massimiliano Ghimenti, took to Facebook to announce that schools in the area would be closed today in order to allow firefighter full access to the area.