Motorised toilets and reptile flatmates: No Comment of the week
Comments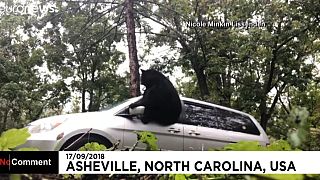 From motorised toilets, to an opportunistic bear and a catwalk taking over China's Great Wall, we take a look back at five of the best videos from this week's No Comment section.
A toilet, which a team of young students had rigged out with wheels and an old motorcycle engine, has reached a top speed of just over 70 miles per hour, breaking Britain's speed limit for cars.
Over two decades, 67-year-old reptile enthusiast Philippe Gillet has amassed a collection of more than 400 phobia-inducing animals, including rattlesnakes, tarantulas and lizards in his home in Coueron, western France.
A bear opened the door to Nicole Minkin Lissenden's unlocked van in Asheville, North Carolina. Lissenden said she closed the bear in the van without realizing he was in there. Her automatic doors failed to open, so her husband unlocked the door for the bear to escape. However, the bear found another way to escape by punching through the driver's window and crawling out.
Terrifying video from a firefighter in Canada shows a rare and dangerous phenomenon. Footage posted online by Mary Schidlowsky shows a fire tornado near Vanderhoof, in British Columbia. Schidlowsky said the fiery twister destroyed a fire line set up by those working on a wildfire.
French couturier Pierre Cardin puts on a colourful fashion show along the breathtaking views of the Great Wall of China.