Ashley Judd can pursue Weinstein defamation case, judge says
Comments
By Variety with NBC News U.S. News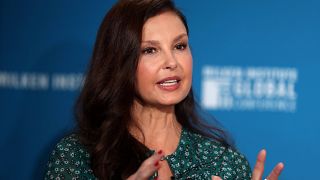 -
LOS ANGELES—A federal judge ruled Wednesday that Ashley Judd may pursue her allegations that Harvey Weinstein blackballed her after she declined his sexual advances.
But Judge Philip S. Gutierrez dismissed Judd's sexual harassment claim against the disgraced producer, finding that it would be unprecedented to apply the statute to a prospective employer.
"We are very pleased that today the District Court held that Ashley Judd can proceed with her lawsuit against Harvey Weinstein and continue her effort to vindicate the wrongs he committed against her among so many other women," said Judd's attorney, Theodore Boutrous. "The law should not tolerate this abuse of power to damage another's career."
Boutrous said the case will now proceed to discovery, including taking Weinstein's deposition.
Judd filed suit in April, alleging that Weinstein smeared her reputation and dissuaded Peter Jackson from hiring her on "The Lord of the Rings." Judd was one of the first to speak out against Weinstein, telling the New York Times that he invited her to a hotel room in late 1996 or early 1997, tried to massage her, and asked her to watch him take a shower. She refused and walked out.
Judd says she was up for a part in "The Lord of the Rings" two years later, but did not get it. After the Weinstein scandal broke last fall, Jackson said in an interview that Miramax had discouraged him from hiring Judd and actress Mira Sorvino, describing them as a "nightmare to work with."
Judd argued that she only had a two-day part in the 1995 Miramax film "Smoke," which was positive, and during which she had no interaction with Weinstein, and that therefore Weinstein's comments were defamatory.
In a motion to dismiss, Weinstein's lawyers argued that his alleged conduct did not rise to the level of sexual harassment, and that the entire suit should be thrown out due to the statute of limitations. They also claim that Weinstein tried to cast Judd in other roles, proving he did not intend to harm her career, and that Weinstein's purported statement that Judd was a "nightmare" was an opinion, and therefore not a provable fact subject to a defamation claim.
In his ruling, Gutierrez held that Judd's retaliation claims—defamation, interference with economic advantage, and unfair business practices—are sufficient to proceed.
"If Defendant indeed had no previous professional interactions—i.e. no previous 'experiences'—with Plaintiff, his statement that he had 'bad experiences' with her would be a provable fabrication," the judge wrote in his ruling.
Gutierrez also dismissed the statute of limitations objections, finding it plausible that Judd did not know she had been blacklisted until the Jackson interview was published.
But, Gutierrez ruled that Weinstein's relationship to her as a prospective employer on future projects is not covered by sexual harassment law.
"The temporary nature of a prospective employment relationship is qualitatively different than the often-more-permanent relationships common with the categories of individuals explicitly listed in the statute," the judge wrote.
Gutierrez granted Judd's attorneys the opportunity to amend the harassment claim. An amended complaint is due Oct. 19.