West "cannot stand aside" on human rights in North Korea
Comments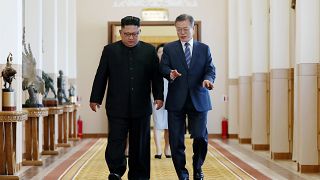 North and South Korea have signed a new deal that Kim Jong-un and Moon Jae-in say could bring peace to the peninsula.
But some argue that human rights are being forgotten in the process.
Dr John Hemmings of the Henry Jackson Society told Euronews's Good Morning Europe that more should be done to include the rights of the North Korean people in the talks.
"The West cannot stand aside and give the regime the security guarantees it craves, if it represses its people brutally as Gaddafi did in Benghazi. So it has to be factored into the equation somehow," he said.