Europe briefing: 5 things to know about today
Comments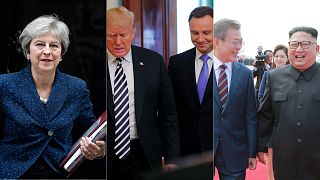 **Macron's former bodyguard questioned by senators **
Emmanuelle Macron's former bodyguard, Alexandre Benalla, is under criminal investigation after he was filmed beating a protester while wearing a riot helmet and police tags, a scandal that has plunged Macron's presidency into its gravest crisis since he won power in May 2017. On Wednesday, Benalla agreed to face questioning by senators after being told he risked prison if he refused to comply with the parliamentary inquiry.
Merkel promotes spy chief to the interior ministry
German Chancellor Angela Merkel went from sacking her top spy chief to giving him a promotion in the interior ministry. This move has been met with criticism since the new position would be dealing with migration issues. Hans-Georg Maassen, the former head of the Federal Office for the Protection of the Constitution (BfV) had come under fire after he cast doubt on the authenticity of video footage showing far-right protesters chasing migrants after the fatal stabbing of a German man.
Korean Summit
The Korean leaders sign a joint statement during three-day summit in Pyongyang on Wednesday, agreeing to "permanently" abolish its key missile facilities in the presence of foreign experts, and is willing to close its main nuclear complex if the United States takes reciprocal action. North Korean leader Kim Jong Un said he and South Korean president Moon Jae-In agreed to turn the Korean peninsula into a "land of peace without nuclear weapons and nuclear threats." Kim said he will visit Seoul "in the near future."
EU chief Brexit negotiator softens stance on the Irish border
EU leaders come together in Salzburg from Wednesday for an informal two-day summit, with some key issues at stake - striking at the core of the bloc. The European Union is ready to address key British concerns on how to avoid a "hard border" with Northern Ireland post-Brexit, the EU's chief negotiator Michel Barnier said, in a clear push to get a Brexit deal effectively done in the next month. "We are ready to improve this proposal," he said. 
**Spanish student and golfer killed in the US. **
College student and star athlete, Celia Barquin Arozamena, 22, was murdered in broad daylight while practising alone on a golf course in Iowa. Police found her body on Monday with stab wounds in the upper torso, head and neck. Colin Daniel Richards has been charged with first-degree murder. He had been living in the woods near the golf course and according to police, told an acquaintance he had an urge to rape and kill a woman. Barquin Arozamena, a Spanish native, was a Big 12 champion and Iowa State's female athlete of the year. She'd also earned an invitation to the 2019 Women's British Open because of her victory at the European Ladies' Amateur.