5.2 million Yemeni children face starvation, warns aid group
Comments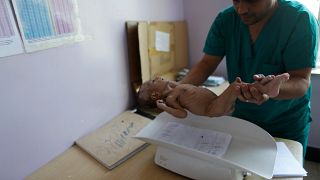 -
Copyright

REUTERS/Khaled Abdullah
More than five million children in Yemen are now facing famine as renewed fighting threatens the vital port of Hodeidah, aid group Save the Children warned on Wednesday.
"Millions of children don't know when or if their next meal will come. In one hospital I visited in north Yemen, the babies were too weak to cry, their bodies exhausted by hunger," Save the Children CEO, Helle Thorning-Schmidt, said in a statement.
The Middle Eastern nation has been torn apart by civil war since 2015 when rebel Houthi troops — Shiite Muslims — seized control of large swathes of the west, forcing President Abdrabbuh Mansour's government — Sunni Muslims — to flee abroad.
The years-long conflict has also led to the collapse of the economy with the Yemeni Rial depreciating 180% and food prices increasing 68%.
According to the UN, nearly 7,000 people have been killed in the conflict and 10,000 have been injured. A vast majority of the population — 60% — also goes hungry, including 8.4 million acutely food insecure people.
Attempts at peace talks have repeatedly collapsed.
Save the Children warned earlier this month that more than 360,000 children would likely die from hunger this year. At the time, it estimated that 4.2 million children were at risk of starvation.
But renewed fighting near the country's fourth-largest city of Hodeidah, in the west, has led the aid group to revise its estimate upwards.
The Saudi-led coalition, which back Mansour's government, launched a major offensive on Tuesday to retake the city from Houthi rebels.
The strategic port city is a vital lifeline for goods and aid for 80% of the country's population, according to Save the Children. Damage to the port or its closure could reduce the supply of available food and fuel and push prices even higher.
"The war risks killing an entire generation of Yemen's children who face multiple threats, from bombs to hunger to prevent diseases like cholera. All parties must agree a political solution to this conflict and give children hope of a brighter future," urged Thorning-Schmidt.