Brett Kavanaugh's 'sexual misconduct victim' breaks silence
Comments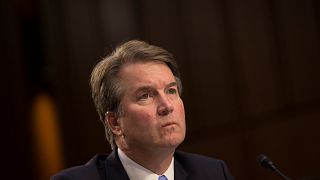 A woman who had anonymously accused President Donald Trump's U.S. Supreme Court nominee, Brett Kavanaugh, of sexual misconduct in the early 1980s went public on Sunday.
Christine Blasey Ford says, as a high school student, a "stumbling drunk" Kavanaugh pinned her to a bed, groped her and attempted to remove her clothing.
Last week, Kavanaugh, the Republican president's second nominee for a lifetime appointment to the nation's highest court, said he "categorically and unequivocally" denied the allegations.
A vote in the Senate committee is scheduled for Thursday on Brett Kavanaugh's confirmation, before the final vote in plenary session, which could take place as early as the end of September.
Democrats cannot stop Kavanaugh's appointment unless some Republicans make a rare decision to break with their party and vote against Trump.
Some say they would like Ford to be given a chance to tell her story.
The Democratic Senate leader, Chuck Schumer says, "Insisting on voting now would be an insult to American women and the integrity of the Supreme Court".