VW discontinues the Beetle: Here are the key numbers behind the iconic car
Comments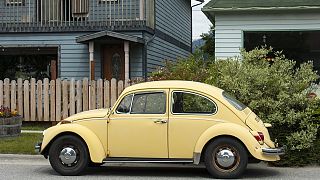 German car manufacturer Volkswagen announced that it will discontinue production of its iconic Beetle car in mid-2019.
"The loss of the Beetle after three generations, over nearly seven decades, will evoke a host of emotions from the Beetle's many devoted fans," Volkswagen CEO, Hinrich J. Woebcken, said in a statement announcing to move.
Euronews takes a look at the big numbers behind the decades-old, best-selling car.
1938: that's when the Beetle car was first tested. It was designed by Ferdinand Porsche who had been commissioned by Nazi Germany's Adolf Hitler to develop a "People's Car" (in German a "Volks Wagen").
10,200: at the end of WWII, American authorities passed on taking control of the heavily-damaged VW factory in Fallersleben and handed it over to the British who revived the factory and ordered the production of 20,000 Beetles. By the end of 1946, 10,200 had been made.
1953: on July 3, the 500,000th Beetle is produced and VW opens a plant in Brazil. Although Germany remained the main market, thousands of Beetles had already been exported.
1968: the car appears in Disney's "The Love Bug" as Herbie, a car with a mind of its own. The car's popularity, already quite high, skyrockets and 423,000 units are sold that year in the US alone.
4th place: in the 1999 Car of the Century competition — an international award given to what was considered to be the most influential car of the 20th century — the humble Beetle came in fourth behind Ford Model T, the Mini and the Citroen DS.
21.5 million: overall the car's first generation sold over 21 million units between 1938 and 2003.
3: that's the number of generations the Beetle has had. The New Beetle was introduced in 1998 and the Volkswagen Beetle in 2011. They sold 1,16 million and 530 000 units respectively.
15,000: sales progressively slowed and only 15,000 Beetle cars were sold in the US in 2017, leading the company to announce on Friday that the last Beetle is to be produced in summer 2019.