Life-size art installation of sperm whale spotted in Madrid's riverbank
Comments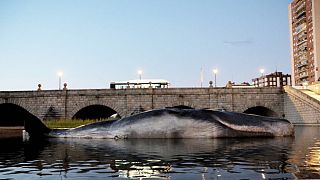 Copyright

Ayuntamiento de Madrid
An eye-catching art installation of a sperm whale has appeared in Madrid, the city's council said on Twitter.
The animal's statue was spotted beached in the riverbank of Madrid's Manzanares River.
The "hyperreal" life-size statue was made by Belgian artists from the Captain Boomer Collective who said the art piece is a "metaphor for the disruption of our ecological system … The game between fiction and reality reinforces this feeling of disturbance".
As part of the installation, "scientists" from the fictional organization, the North Sea Whale Association, take samples of skin, make autopsies and dissections in front of the public and interact with crowds while remaining in character.
The artists say the statue does generate curiosity among crowds with people "chatting between themselves when they see the art piece and asking questions about it."
The statue was previously showcased in other European locations such as Paris, the UK, the Netherlands, Germany, and Belgium.
The sperm whale will be beached in Madrid's Manzanares River until 6 pm Sunday, September 16.