Genoa: A minutes silence, one month on from bridge tragedy
Comments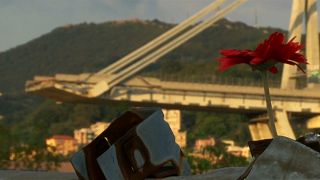 One month on from the bridge collapse at Genoa in Italy, and a somber mood remains.
One minute's silence was held as shops closed. Applause was heard at the end of the silence.
The tragedy killed 43 people highlighting the poor state of Italy's infrastructure, much of it built in the 1950s and 60s.
Meanwhile, the Italian government approved a decree aimed at speeding up the rebuilding of the collapsed motorway bridge as it's a vital transport link for the whole country.
The clean-up continues as the government announced it would set up a new body staffed by 250 engineers to carry out a nationwide check-up on transport links.