Activist from anti-Kremlin Pussy Riot group "poisoned"
Comments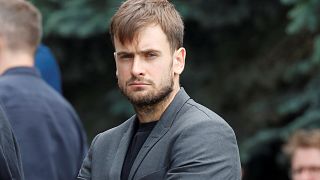 An activist from the Russian protest group Pussy Riot has been in emergency care since late on Tuesday, when he was hospitalised after losing his eyesight and his voice.
A tweet from the group said Pyotr Verzilov's life is in danger - adding "We think that he was poisoned."
Fellow Pussy Riot member Veronika Nikulshina said Verzilov is in the toxicology unit of a Moscow hospital.
Independent news website Meduza reported that his doctors believe he overdosed on medicine or was given too large a dose.
30-year-old Verzilov is the publisher of Mediazona, a Russian online news outlet focusing on human rights violations inside Russia's penal system.
He and three other Pussy Riot members served a 15-day sentence for running onto the pitch in front of President Vladimir Putin during July's World Cup final in Moscow.
They said the stunt was meant to promote free speech.
Verzilov is also a Canadian citizen and Prime Minister Justin Trudeau said the incident is "of concern" given recent allegations that Russia was behind a nerve agent attack in the UK.
But he warned it was too early to draw any conclusions.
Pussy Riot came to global prominence in 2012 when its members were jailed for staging a protest against Putin in a Russian Orthodox cathedral.
The group has since become a symbol of anti-Kremlin activism.