Tourists injured in Greek Island rockfall
Comments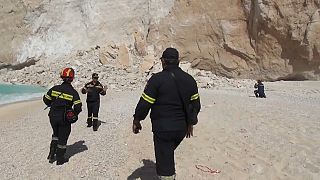 At least seven people were injured in Greece on Thursday after a huge piece of rock fell down into the sea, spreading panic on the island of Zakynthos. There were with no life-threatening injuries, according to Greek authorities.
Tourists that had packed the beach were all taken to safe spots. T
The Island Coastguard say everyone who visited the beach on tourist boats had been accounted for.
Rescue services with sniffer dogs are searching the beach for possible victims.