Thousands evactuate before Phillipines typhoon
Comments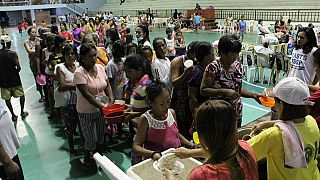 Thousands of people have been evacuated after a super typhoon hit Phillipine's coastal areas. That's according to local authorities. Typhoon Mangkhut has winds of more than 205 km per hour which bore down on the country's main island, Luzon.
On Thursday, Mangkhut was tracked more than 700 kilometers away and could hit northeastern Cagayan province by Saturday. With a massive raincloud band 900 kilometers wide, forecasters say Mangkhut could set off landslides and flash floods.
Relief agencies are providing equipment, food, and medical supplies in affected areas.