Six dead in California shooting spree
Comments
By Dennis Romero with NBC News U.S. News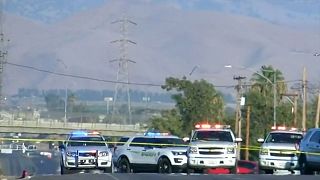 Six people, including the gunman, were killed in a Bakersfield, Calif.,-area shooting spree Wednesday night, Kern County Sheriff Donny Youngblood said.
It's not clear why the man went on the rampage, he said, but there may be a connection between the shooter and the victims — all described as adults.
He told reporters all of the deceased have not yet been identified. The gunman shot himself as at least one law enforcer approached him, Youngblood said.
Authorities received their first call about the shooting at 5:19 p.m.
"The suspect killed himself," the sheriff said. "The wife's dead."
A woman died either at the hospital or enroute, the sheriff said.
He indicated there are multiple crime scenes, including one near a gun seller called Bear Mountain Sports.
Youngblood said detectives believe the store is not connected to the spree. A victim happened to be in the area and was chased around the building before being shot, Youngblood said.
Then the gunman confronted two more people at a different location, he said.
The sheriff said he could only confirm that a single handgun was used in the attacks.
The investigation could take days, he said, because there are at least 30 witnesses who need to be interviewed. The body camera video from the officer who confronted the shooter also needs to be examined.
"It's very unusual to have six people killed in one incident," the lawman said. But he later added, "This is the new normal."