Archbishop defends British MP after activists are filmed hounding his children | The Cube
Comments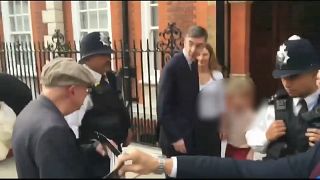 The Archbishop of Canterbury, Downing Street and UK politicians have come forward to defend Conservative MP Jacob Rees-Mogg after activists surrounded his London home and intimidated his children.
In a video posted to the Facebook page of Class War, protesters are seen yelling at Rees-Mogg and a young boy outside his house as police officers stood by, with one protester saying, "You won't answer the question will you? Your dad won't answer the question."
"Your daddy is a horrible person," he goes on to say.
Rees-Mogg has since brushed off the incident, telling LBC radio: "It was a few anarchists who turned up and it wasn't very well organised. It wasn't terribly serious.
"We are a free country. They weren't violent. They aren't admirers of mine. I am in public life and not everybody is going to like me. That is a reality of public life."
But others, including religious leaders, celebrities, and opposition MPs, were angered by the episode.
"This is appalling. There are plenty of ways you can tell MPs you disagree with them. But targeting their children is shameful and disgraceful," wrote Justin Welby, the Archbishop of Canterbury, on Twitter Wednesday.
"We are – and must be – better than this. We'll be praying for @Jacob_Rees_Mogg's family at @lambethpalace chapel this evening."
Labour MP Yvette Cooper said: "Leave the kids out of it.
"Don't care what your views on Jacob Rees-Mogg, it is disgraceful to target his family, and shameful when politics becomes personal abuse."