Watch: Man smashes through terminal in car at Lyon Airport
Comments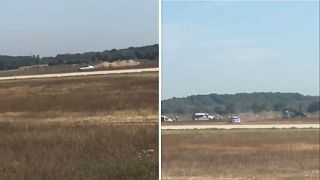 A man has been arrested after driving through a terminal building and onto a runway at Lyon's Saint-Exupéry Airport in France.
He tried to flee on foot but was detained by police.
"(The driver) reportedly said 'I am sent by Allah', but I don't have complete confirmation of that," Marc Cimamonti Lyon prosecutor told journalists at a news conference.
Prior to smashing the car through two glass doors in the city's main airport, he also rammed security barriers at the smaller Lyon-Bron airport while being pursued by police.
One worker was lightly injured, according to the prosecutor's office.
It also said the driver was 31-years-old and previously unknown to police, adding it is highly likely he is a French national but his motivation is still unclear.
Before being arrested in Lyon, the man allegedly stole the grey Mercedes 350, registered in Luxembourg, at a service station in a commercial area north of Dijon in eastern France, according to AFP news agency.
He then travelled 200 km south to Lyon-Bron business airport in the east of the city, smashing through a security barrier before changing direction towards Saint-Exupéry.
Police said they began chasing the car when it was seen speeding the wrong way down the A43 motorway that links Lyon to the Chambery.
Pursued by motorway police and a police helicopter, he then drove to Lyon's main airport and tried to get through to the runway via a holding centre, according to AFP.
When he failed to gain access via this route "he headed for the airport's Terminal 1 and managed to get through the buildings", according to the prosecutor.
Some 20 police vehicles pursued the man which ended in his arrest. The individual has not been named.
The prosecutor's office opened an investigation and was looking into "attempted murder in an organized gang".
Flights at France's third airport were interrupted until mid-afternoon because of the incident with around 100 cancelled. Two runways had reopened by 4 pm local time.
Euronews journalist Marcela Martínez was onboard one of the planes unable to take off due to the incident. The passengers were told an unidentified vehicle was on the runway and the police surrounded it. They were also told they would return to the terminal and disembark for security reasons.