Bridal fashion on display in Pakistan
Comments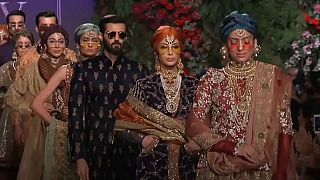 Established and rookie designers alike showed off their colorful creations at the final day of Pakistan's Paris Bridal Week in Lahore, .
Designers including  Hussan Shahyar Yaseen (HSY) and Hira Ali showcased their latest designs for bride and groom.
"We're showcasing our first bridal collection tonight. It's very different from what everyone else is doing," said designer Hira Ali, who added,"We're standing up for individuality, we're standing up for love, we're standing up for acceptance  and that's what we will be bringing to the runway."
Renowned Pakistani designer Hussan Shahyar Yaseen said he wants "to show the rest of the world the new millenial culture of Peshawarr."
Organizer Sara Shahid who has been part of the Pakistan Fashion Design Council 's Fashion Week presentations since its start called the event "one of the most fabulous, amazing, professional platforms for years for designers to show."  She added, "I am extremely proud of where we're at. So many new designers, a platform for everyone to show, I feel every year is getting better, bigger and absolutely more fabulous."