Sweden goes to the polls in tightly fought general election
Comments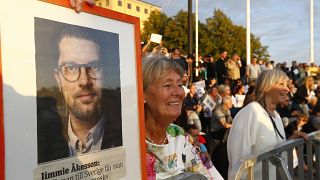 Sweden goes to the polls today in a tightly fought election which could see a right-wing anti-immigration party make huge gains.
The Sweden Democrats have risen in popularity on the back of fears about asylum and welfare.
The leader of the far-right party, Jimmie Akesson, spelt out his policies on the last day of campaigning:
"Sweden needs breathing space, we need tight, responsible immigration policies. And you know something?" he said. "There is only one guarantee for tight and responsible immigration in Sweden..."
One of the parliamentary candidates opposing Akesson is Social Democrat Mohamed Nuur- who is - himself - an immigrant from Somalia.
"For me, Akesson, the Sweden that he wants to see, that is not our future. That is go back to the history. For me when he is saying that immigrants are not welcome to Sweden, when I know Sweden welcomed a lot of immigrants, where I know Sweden is well-respected in the whole world to welcome. Actually the immigrants built up this country"
But high levels of crime in some Swedish cities and the 2017 terror attack in Stockholm have driven a shift to the right.
Exit polls will be revealed when polling stations close, late on Sunday evening.