Moscow has a dig at May's moves
Comments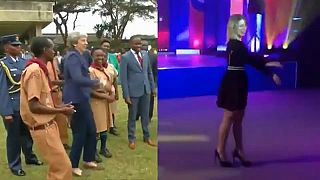 we can all remember the pictures from last week when Britain's Theresa May traded diplomacy for the dance-floor on a tour of Africa.
Well, as the UK and Russia prepare to face off at the United Nations over the Novichok nerve agent attack... Russia has found a novel way to brush off the international scandal.
The Russian Ministry tweeted this video..
May's no famous dance set to trandition Russian music.
An innocent trolling of the UK leader... or a not-so-subtle power play.